CSI Action Center
CSI's efforts go beyond providing vital direct aid to persecuted Christians on the frontlines. We are mobilizing people of conscience to help defend religious freedom in the Middle East – where the existence of Christianity's most ancient communities is threatened.

Americans cannot sit by silently – and we can do more than pray. We must act and press political leaders to make defending the basic rights of fellow Christians in the Middle East a national priority. Your voice is crucial to this effort.

Urge President Obama to Protect Religious Minorities in the Middle East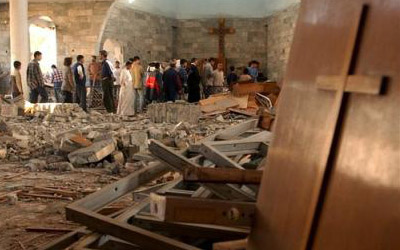 Christian Solidarity International (CSI) has issued a genocide warning for the Christian communities and other religious minorities in the Islamic Middle East! CSI is also launching a petition campaign to President Obama, asking him to respond to this crisis of survival.
Today, conditions for the eradication of non-Muslim communities exist in North Africa and the broader Middle East, taking a shape eerily similar to the conditions that preceded the genocide of Armenians and other Christian minorities in Turkey a century ago, and the anti-Jewish pogroms that preceded the Holocaust in Central Europe.
Learn more about Christian Persecution in the Middle East Here
If the American public does not care enough to act, neither will the President. Sign the petition now
Please send this urgent appeal to President Obama, and distribute it by e-mail to friends, colleagues, politicians, and religious leaders here. 
Tweet this petition, get your followers to sign
Use your voice to encourage President Obama to take specific action now - click here.