In the disputed border region between Sudan and South Sudan members of the Dinka ethnic group have come under attack from Arab Misseriya tribesmen twice in the past month. At least two children were killed and several women are missing. CSI is providing aid to the affected communities.
South Sudan's Aweil East County, close to the border with Sudan, is home to ethnic Dinka villages. Those living there include former slaves whom CSI helped free from captivity in Sudan.
Following an upsurge in tensions between the ethnic groups, Misseriya militias have staged two attacks on Dinka villages in April and May that have left several dead and injured. In the aftermath of the attacks, villagers have fled their homes.
Girls shot, women abducted
On April 14, six Dinka women and girls from Mayom Jurwiir went to the forest to collect natural gum to sell at the market – and never returned, reports CSI's project manager for South Sudan, Franco Majok. A search party discovered the dead bodies of 12-year-old Anak Deng Agouth and 17-year-old Ador Mawien Jongkor. The two girls had been shot to death. Bullet holes on the trees suggested the girls had been involved in a struggle with their attackers, Majok said.
There was no sign of the other four girls and women, aged from 13 to 35, who are assumed to have been abducted and enslaved. Those missing include twins Atong Arop Bak and Achan Arop Bak, who had nine children between them.
Villagers left homeless
"Following the attack people left their village. They are now without homes, water to drink and food to eat," says Majok.
In response, CSI has provided emergency food supplies including 10 sacks of grain and has donated $300 dollars to repair a borehole in the area so that the displaced can obtain drinking water.
On May 8 the Misseriya struck again, this time in Mathiang Bul, a farming village comprising 47 households. Although the local residents try to live in peace with the Misseriya, their village has been invaded five times since November 2019 and the attacks have become increasingly violent.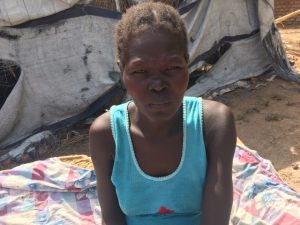 In the latest incursion a three-year-old boy was killed. His mother, Abech Majok Arou, 25, who is pregnant with her third child, was shot in the thigh and arm and left unconscious. She is receiving treatment in hospital where CSI project workers visited her.
Ambushed at night
Mou Koor Mou Aguer, aged 38, said the Arab attackers came at night. He and his friend, Mou Abiem Aguer, were returning from the local market at 7pm when they were ambushed by militiamen hiding in the bushes at the roadside. As the men made their way home they heard gunshots ringing out.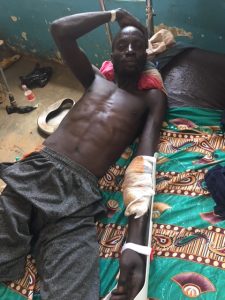 "I fell down and was unable to stand up," Mou Koor Mou Aguer said. "The Arabs came and surrounded me, they thought that I was dead. I heard one of them saying, 'let me finish him off', but another one said, 'he is already dead'. So they left me on the ground."
He said he saw the militiamen capture eight cows before disappearing into the bushes.
Mou Abiem Aguer was also shot and wounded but managed to escape. "Right now, the entire village is displaced," he said.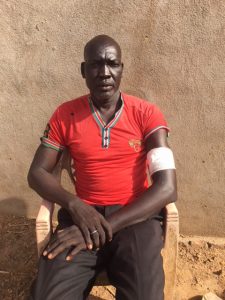 CSI is providing support to the victims in the form of survival kits and bags of grain.