Christian Solidarity International (CSI) has helped a further 300 people escape slavery in Sudan and return home to South Sudan to rebuild their lives.
CSI project manager Franco Majok was in South Sudan to oversee the second slave liberation action of the year that concluded on May 22 and 23. Over the two days 150 former slaves returned to Aweil North County and the same number to Aweil East County, close to the border with Sudan.
All those freed – 183 women and 117 men – received a goat, a survival kit, a hoe for farming, 20 kg of sorghum and 20 kg of groundnuts. The amount of food provided was higher than usual on account of the current risk of hunger in South Sudan.
A medical team provided treatment to one third of the returnees for various illnesses and injuries.
"There were no issues and everything went well", a relieved Franco reported following the slave liberation. "People were so happy."
Hunger gap
Another reason for celebration was the start of the rainy season, which this year came early, offering hope to farmers following a devastating drought.
"Most of the crops are dying, it's a very scary situation", Franco said.
"This is hunger gap time. CSI will act in the month of June to distribute sorghum".
Ajong and Bol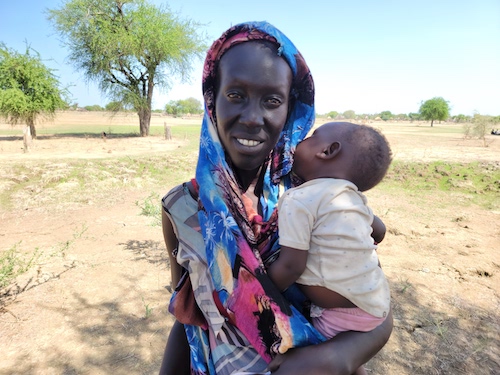 Two of those who were freed are Ajong Kenyang Akoon and Bol Akech Marol. Ajong, aged 34, was so young when she was captured by slave traders that she has little memory of it. What she recalls all too well is the brutal treatment she received as a slave. During the rainy season she worked long days on the master' farm for no pay. Despite working hard she was regularly beaten and insulted. In the dry season, she fetched water and cleaned the house. As she grew older Ajong was repeatedly raped by her master and gave birth to two children. After meeting the slave retriever, Ajong was freed along with one of her children. "I left my other child with the Arab master. I was so afraid and I thought the master will come after me and kill me", she said. "I feel good to be in South Sudan, but I still think about the child I left with my Arab master".
Bol, 50, was working in a cattle camp when Arabs attacked and captured him and others. After being force marched to the north, Bol was put to work in a farm and also looked after the master's cows. He was always hungry and often alone. He filled his lonely hours thinking about God, and believed it was an answer to prayer when the slave retriever found him. Bol is determined to forgive his master and forget his brutal treatment, but he says, "I lost the best part of my life in slavery, I am 50 years old now, and don't have a family or anything to call my own".
So far this year CSI has returned 600 former slaves to their home in South Sudan, with further liberation actions planned for the months to come.