Urmila, 12, was forced to work in a brothel when her parents had no money to provide for the family. Thanks to a project sponsored by Christian Solidarity International (CSI) in India, Urmila is now free and living in a shelter for trafficked girls where she is being prepared for a better future.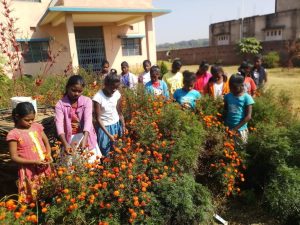 Millions of people around the world suffer and are condemned to poverty because of their faith or ethnicity. The Covid pandemic has only made the situation worse for many, including the family of Urmila.
"The hunger was almost unbearable and sapped our strength", says the 12-year-old girl whose family belong to the Dalits, the lowest caste in India. Government-imposed lockdowns lasting months prevented her parents, day laborers, from working and earning a wage. "The measures simply lasted too long. Our family was completely in debt because of the loss of income", says Urmila.
Sold off to pay debts
"The nightmare really started when a man came to our house in March 2021 to claim money owed by my father. But my father was not able to pay him anything", recalls Urmila.
The creditor demanded that her father hand over one of his daughters to him as repayment of the debt. Faced with no alternative, Urmila's parents made the heart-wrenching decision to pass her to an unknown man, a human trafficker.
The little girl was taken to a place thousands of miles away from her home, where she was forced to work in a brothel for months.
Thanks to the unrelenting efforts of CSI's local partners and the cooperation of trustworthy police officers, Urmila was freed from her ordeal in June and placed in a shelter for victims of trafficking. There, in a protected setting and with psychological care, she is gradually healing from her abuse. Step by step, she is being prepared for a more hopeful future.
Millions of people and families around the world have suffered the same fate as Urmila's family. People facing financial hardship and in despair are mercilessly exploited by human traffickers.
Working to combat human trafficking
In 2013, CSI started its engagement against human trafficking in India. The focus is on prevention work, and on freeing victims and reintegrating them in society.
Another aspect is bringing the perpetrators to justice, by bringing criminal charges against them in the hope they will be convicted.
Together with other organizations, CSI's partners have set up the PUSH ("People united to stop Human Trafficking") network with the aim of increasing protection for girls like Urmila and bringing in stricter laws against human traffickers.