Since 2017, northern Mozambique has been in the grip of Islamist attacks, and the violence shows no sign of abating. Thousands of people have been left traumatized by the scenes of terror they have witnessed. Christian Solidarity International (CSI) is supporting relief efforts through a local partner.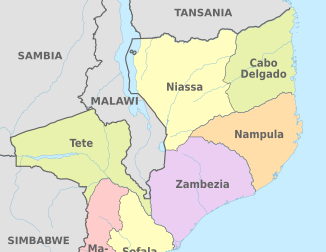 The northern province of Cabo Delgado is rich in mineral resources and natural gas and yet it is one of the poorest in Mozambique. Widescale youth unemployment and a lack of prospects provide the ideal conditions for terror groups to recruit and radicalize followers. Over the past three years, the Islamist insurgency has grown in strength and brutality.
In late March 2021, the town of Palma was targeted by Islamist terror group al-Shabaab. The brutal attacks not only claimed many lives, but also forced over 10,000 people, both Christians and Muslims, to flee. The survivors are living with relatives, in makeshift camps or hiding in the forests.
Traumatizing events
Pro-Vision, an aid organization supported by CSI, is working tirelessly on behalf of the displaced. Operations Manager Lesley Harper reports, "What we've been seeing and hearing in recent days and weeks makes me shudder. One young man who witnessed horrific beheadings thanks God that he escaped with his wife and three young children. Another, who moved with friends from southern Mozambique to the north for work, escaped beheading only because he named Allah as the only true God, under duress. Three of his friends were beheaded".
A pastor is holding out with his congregation and many others on the border with Tanzania, but the Mozambican government refuses to allow them to cross over.
"People are in despair", says Harper. But they have not been abandoned by their church leaders.
"Two pastors we provided financial aid to so they could get to safety told us, 'We will stay to help our people. This is our calling!'"
Food distribution
With CSI's financial support, Pro-Vision is distributing weekly food packages to people in camps for the internally displaced. In addition, the local organization offers trauma recovery programs and is providing teaching to children in improvised schools. Pro-Vision is one of the few aid organizations to have remained in Cabo Delgado throughout the Covid-19 pandemic.