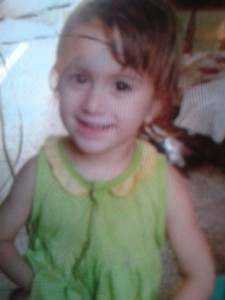 Since overrunning large parts of Iraq and Syria last summer, the Islamic State (IS or ISIS) has taken hundreds of Christians hostage. The youngest known Christian hostage is Christina Khoder Abada, who was three years old when she was abducted.
CSI has been bringing relief aid to persecuted Iraqi Christians since 2007, and has been working on the ground to help victims of the Islamic State (or ISIS) since the beginning of the current crisis. On their most recent trip to Iraq, the CSI team interviewed Christina's parents about their horrifying ordeal.
We meet in their trailer in the refugee camp. There are no chairs, so we all sit on the floor on their mattresses. One of their girls begins cleaning the entry room after we come in. The mother and father both look very old. The mother does most of the speaking;  the father doesn't say much. From time to time he smokes one of his thin cigarettes. There is air conditioning and a TV. After a while, one of the girls offers us some juice.
Khoder Abada, 65, and Aydar Amel, 44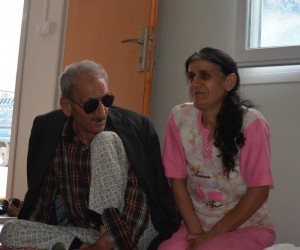 We are from Qaraqosh (also known as Hamdaniya and Bakhdede) in the Nineveh Plain. We lived under IS rule for three weeks – us and our three girls and two boys. We couldn't flee with the rest of the town when IS came, because we didn't have a car. We didn't think they would really come.
When IS came, they went throughout the village, forcing open houses. The fighters were mostly Iraqis, and all armed. They shouted, "Allahu akbar! The Christians must leave!" We heard it, but we were scared and didn't leave the house.  They came to our door, and told us to convert to Islam. We told them we didn't want to. For a time, they left us alone, and brought us food occasionally. We had no electricity. The Sunni people stayed in the city, although the fighters took their Mullah away. But most of the Muslim people in Qaraqosh were Shiites, and they also fled.
On August 28, 2014, the IS men came and told us to take everything with us as they would be taking us to another place. They took us to the clinic in Qaraqosh. There, their leader gave us some water and sweets. Everybody was examined and given some treatments, if necessary. We were then told to get onto another bus. All in all, there were 33 of us. The IS fighters took away all our money and official documents as we boarded.
Suddenly, the driver grabbed my 3-year-old daughter, Christina, and took her back into the clinic. I chased him and asked: "What are you going to do? Give her back!" He said, "The Emir won't allow me to give her back." He threatened to kill me if I didn't enter the bus. He was not Iraqi.
They brought us to the desert and left us there. We had to walk for seven hours before we came to a dam we had to pass. One of us even fell into the water, because the water was so high. So the IS fighters helped us to pass. After we passed the dam, they left us and we had to walk for another 7 hours until we arrived at a Kurdish Peshmerga checkpoint, where we received water and told our story.
We lived for a time in a wedding hall, then for a longer time in a shopping mall, and now we are here.
Christina was the only girl in our group who was kidnapped. There was a young man who was taken too, along with his father and brother. His name was Tony. He vanished. His mother was on the bus. No one knows what happened to them.
20 days after the kidnapping, "Abu Khadeifa," a tribal leader, called us and told us that Christina was screaming for her mother. He said she was in Mosul and he couldn't bring her back. We have continued speaking by phone with some of her captors, but they always say it's not a good time to bring her back. Our oldest son paid $1,600 to IS to get her back, but in the end, they took the money and didn't give her back. I am still in shock, as if I were living in a dream. Sometimes I dream of her coming into my room. July 18 will be her fourth birthday.