Christian Solidarity International (CSI) is grieved and deeply concerned by the rapid advance of jihadist forces across Afghanistan over the past month. The collapse of the U.S.-backed Afghan government and the Taliban's takeover of the country threatens to make the already grim human rights situation in Afghanistan even worse, especially for Christians, Shi'ite Muslims, and women.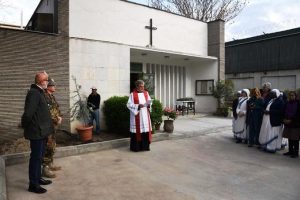 The sad truth is that, even under the U.S. occupation and the now-fallen U.S.-backed government, there was no religious freedom in Afghanistan. The church in Afghanistan is entirely underground and has been for decades; Afghans who dared to state openly that they had embraced Christianity risked being arrested, imprisoned, and executed for "apostasy" from Islam.
With the Taliban returning to power, the dangers for religious minorities in Afghanistan have greatly increased. Scattered reports coming out of Afghanistan speak of Shi'ite Muslim villagers being killed, Afghan church leaders receiving threats, and Taliban fighters searching people's phones for Christian images and literature. Christians who are captured by the Taliban are at severe risk of being killed for their faith.
We call on all governments with open lines of communication to the Taliban to use whatever leverage they have with the Taliban to prevent such killings. We recognize frankly that, with Afghanistan's borders closed and even superpowers unable to evacuate all of their nationals and allies, there are hard limits to our ability to materially assist persecuted religious minorities in the country. We therefore make our appeal to the Lord to defend his church. We join Christians across the world in praying for the safety of our Christian brothers and sisters in Afghanistan, and for all people in Afghanistan.
Please PRAY:
For the safety of Afghan Christians who are hiding from Taliban forces.
For protection for Afghan Christian seeking to flee the country at this time.
For the Lord to give his peace and strength to Afghan Christians facing mortal danger.
For the safety of Shi'ite Muslims, women, and other vulnerable groups in Afghanistan.
For peace to come to Afghanistan, and for the church in Afghanistan to one day be free to meet together and proclaim the gospel openly.