John Eibner speaks to the displaced from Idlib
Dr. John Eibner, CEO of CSI-USA travels to Syria regularly. On his last visit he spoke to internally displaced people from the city of Idlib. It was captured by rebels at the end of March 2015. After four years of war, many Syrians despair about their future. CSI stands in solidarity with them.
Half the population (11 million) have fled and over 200,000 are dead. This is the sad outcome of the war in Syria, which has now raged for over four years. A few months ago government troops seemed to be advancing in their fight against the rebels. Meanwhile US allies – Turkey (a NATO member and candidate for EU membership), as well as Saudi Arabia and Qatar – are trying to unite various Islamist rebel groups to fight against the Syrian government. This is proving to be successful, as the displaced of Idlib reveal.
The city with a former population of 165,000 was captured by the rebel alliance Jaish al-Fath in March 2015. The alliance is an association of convenience of Islamist groups, some of which are former enemies. For example, both the al-Nusra Front (an offshoot of Al-Qaeda) and elements of the Free Syrian Army are part of the alliance. The USA trains and arms the ostensibly 'moderate Islamists' of the Free Syrian Army, while the UN Security Council has classified the al-Nusra Front as a terrorist organization.
Dr. John Eibner, CEO of CSI-USA and Director for the Middle East Projects, stated that "the strategic goal of Turkey, Saudi Arabia and Qatar seems to be a Sunni state ('Sunnistan') stretching from Mosul to the Mediterranean coast." Eibner traveled to Syria in May 2015 and spoke to internally displaced people from Idlib.
A narrow escape from death
Christian refugee, Khalil (name changed), told his story. "There were about 1300 Christians in Idlib, but now only two remain: an old woman and an old man. We had a good life before the war started. Though we were a small minority, we were, on the whole, well respected. I ran a business and many Christians were well situated professionally.
"The crisis started in the spring of 2011 with demonstrations after Friday prayers. Initially, the protesters chanted slogans such as 'Muslims and Christians together against the regime'. But very soon they started to harass Christians, especially the women."
Khalil's wife interposes, "I am a teacher. They ordered that I must not to go to school wearing jeans anymore, but must wear a Hijab. I did not want to so I went to another school."
Khalil continues, "A rich jeweler was the first Christian to be killed by gunmen. It happened on February 14, 2012. They also attacked policemen and other state employees. The army intervened to restore order in March 2012. Nevertheless, there was still fighting from time to time. Many residents left Idlib. When the rebels captured Idlib in March 2015 there were only about 400 Christians left. The rebels went from house to house with sledgehammers and machine guns smashing holes in the walls to connect apartments. They did that so they could move undetected from one apartment to the next. They killed two of my relatives who made a living selling alcoholic beverages, and then they hindered us from burying them.
"I wanted to flee with my family and other Christians. But at the checkpoint they found out we were Christians. They arrested us and escorted us to the Emir. He carried a large sword. I thought we would be killed. He told us, 'You are Infidels'. He insulted our religion and ordered us to convert to Islam. Thanks to the intercession of one of his subordinates, who recognized his former teacher among us, we were released and taken back to Idlib. With the help of a few Muslims we managed to flee the next day."
Christians are losing hope
"A return to stability is not in sight" says Eibner. "While the war continues more and more Christians are losing hope of being able to stay in their homeland." At the beginning of the conflict Eibner perceived Syrian Christians as more optimistic than those in Iraq. But now despair is also growing in Syria, particularly among younger people. But at the same time, he notes, more and more Christians, who feel their future still lies in Syria, are joining Christian militias to fight against the rebels.
The war in Syria has been marked from the beginning by sectarianism. Previously, religious pluralism and tolerance was the norm. But President Assad belongs to a religious minority (the Alawites). Conservative Sunni Muslims regard it as an affront to their sense of superiority to be ruled by a non-Sunni. Christians and Alawites are under particular pressure, but hundreds of thousands of Sunni Muslims are also caught up in the violence, with many fleeing seeking security in areas still under government control.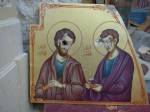 "This is not my Islam"
The Muslim refugee Fatima (name changed), originally from Aleppo, lived in Idlib since 2000 where she worked as a nurse. Her husband died and her son drowned trying to escape to Greece. She has two daughters. Fatima recounts, "We do not belong to a side in this conflict. We simply belong to Syria. Before the war things were very good in Idlib. The first protesters came from the surrounding villages and were paid to demonstrate. At the beginning the demonstrations were peaceful. Then the rebels received weaponry and started to kill people. They blamed the Syrian army, but the army was not in the city at that time.
"The rebels that attacked Idlib at the end of March 2015 came from all sorts of countries. I even saw children carrying weapons. The rebels had a list of names of people who were to be killed, in the majority of cases because they held pro government views. One of my friends, a teacher, was on the list and was shot. About 90% of residents fled. Most of them left Idlib for Turkey.
"I left Idlib with my cousin who had a car. Afterwards, my house was occupied and looted by the rebels. I had planned to sell my house to enable my daughter to study medicine. Now it's too late. I also worry about our old Christian neighbors. I am a Muslim but the religion of these rebels is not my Islam. I detest Salafism, and do not want to live under it."
In an al-Jazeera interview at the end of May 2015, the leader of al-Nusra Abu Mohammed al-Golani promised to stop the terrorist attacks on the West, to discontinue the forced conversions of Christians, and to take up arms against the Islamic State if the USA agrees to work alongside his al-Qaida affiliate in the battle against the Assad regime. Al-Golani's attempted blackmail is in harmony with the policy of his Sunni patrons in Turkey, Saudi Arabia and Qatar.