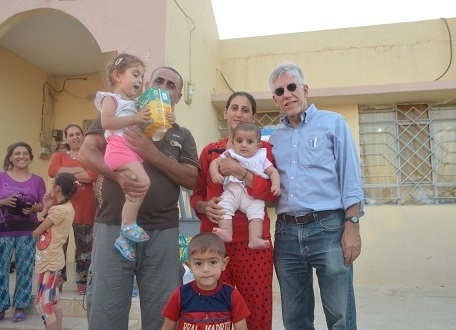 Thank you to everyone who has donated to CSI's emergency Iraq operations!
Dr. John Eibner was in Iraq last week with the CSI team, delivering food aid to more than 1,000 displaced Christian and Yazidi families who fled the Islamic State's takeover of Nineveh, Sinjar and the Nineveh Plain.
One of these people, a young married mother of three named Bushra, described how IS expelled her family from their home in Mosul in July:
"The threats started in the evening, coming through anonymous phone calls and the loudspeakers of mosques. The message was only for Christians: convert, pay the protection tax, leave the city, or die. We were so frightened we could not sleep that night. At 5:00 am we piled into our car with some belongings, and drove out of the city. We were fortunate. All those who tried to leave only a few hours later were robbed at the IS checkpoints and lost everything apart from the clothes on their backs."

Today, Bushra and her children are sleeping on the floor of a classroom in an unheated, abandoned school building in Iraqi Kurdistan.
A Yazidi chief we met described how he and his family survived without food for seven terrifying days on top of Mt. Sinjar, encircled by IS terrorists, before they were rescued by Kurdish forces. He showed us where his people live now: 48 people under a makeshift tent, 50 in a single room in a nearby school, 35 people sleeping under trees.
It gets very, very cold in northern Iraq during the winter – and the winter is coming fast. We will not forget the people sleeping in unheated rooms and under trees. We are bringing warm winter clothes, blankets and portable kerosene heaters, along with more food aid, to these trapped families.
Will you continue to stand by these people living on the edge of survival?