"We hardly touch anybody except security personnel and Christians and those who have betrayed us."
—Abubakar Shekau, leader of Boko Haram
On December 25, 2011, a Toyota Camry pulled into the parking lot of St. Theresa's Catholic Church in Madalla, Nigeria. As worshippers began exiting the church after Christmas mass, the car exploded. 42 people were killed.
A week later, the leaders of Boko Haram, an Islamic terrorist group whose name means "Western education is sinful," made an announcement. They were giving all Christians in northern Nigeria three days to leave – or else.
From January 2012 to June 2015, Boko Haram and other extremists murdered over 5,000 Christians in Nigeria. Hundreds of thousands of Christians fled their homes in northern Nigeria for safer, Christian-majority regions, such as Enugu, in the southeast. Many refugees we have met ran for their lives as Boko Haram was attacking, carrying nothing but their children and the clothes they were wearing.
At the end of June 2018, the violence reached a new peak: more than 200 people were killed in ten mostly Christian villages. Numerous houses were burned down and entire villages were destroyed.
CSI teams travel regularly to Nigeria, to meet with the survivors of these attacks and provide them with funds for medical treatment, and help those who lost their livelihoods start over.
We also work with Christian refugees in southern Nigeria, sending over 100 Nigerian Christian refugee children to school, providing food, clothing and education for Christian children orphaned in Boko Haram attacks, and supporting refugee families with microloans to start new businesses in the south.
CSI also brings aid directly to Christians living in northern Nigeria, many of whom have seen their homes, towns and shops destroyed by Boko Haram.
YOUR GIFT WILL PROVIDE NIGERIAN CHRISTIAN TERROR VICTIMS WITH:
Food and medical packages for Christians unable to flee areas terrorized by Boko Haram.
Schooling for refugee children
Food, education and medical care for children who lost their parents in Boko Haram attacks
Medical care for victims of church bombings
Microloans to start small businesses to care for their families
Stories from the Field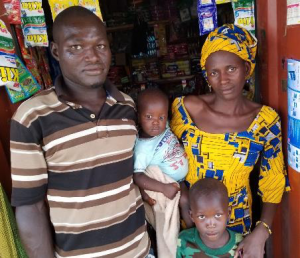 Rebecca was captured by Boko Haram from her village. They also killed one of her sons. She came back a year ago, but she was pregnant by a Boko Haram fighter.
She has two children now, a child who was captured with her and her son from the Boko Haram fighter. Her husband Bitrus struggled to welcome her back when he knew she had a child from Boko Haram. Her children are Zakria, 6 years old, and Christopher, a year and 8 months old. Rebecca is 28 years old.
When she came back from Boko Haram, the Bishop of the Diocese of Maduguri was touched by her situation. He offered to open a very small shop for her and her husband with hope that they will accept each other and live as a family again. The small shop was not generating good income for them. They were making 2 naira a day. This is less than 2 cents.
When CSI staff met with her and her husband last year, they appealed to CSI to help them expand their small store. CSI responded to their appeal and funds were sent to them. They bought a refrigerator and a generator, expanded the store and bought more goods. This helped a lot.
Today, they have more customers coming to buy things in their store, more goods in their store, and more gain every day. The refrigerator helps to store more soft drinks. The light from generator helps to keep the store opens for more hours at night. She and her husband opened saving account at Zenith Bank. This is the first time for them to have an account in the bank. They are saving 2000 naira every week. The Bishop of Maiduguri sponsors their Zakria to go to school. Zakria is in kindergarten this year.
Rebecca said that on August 25, 2017, it was exactly one year since she was released from Boko Haram. After she was released, she thought she would not have any future. Today, she feels very lucky.
She thanks the Bishop, CSI and JDPC [Justice, Development and Peace Commission]. She feels great. She says, "I met my husband and my husband welcomed me back. When I came back I had no clothes, but I have clothes now. I look great and I feel blessed. With all these things that happened to me Jesus is with me and the Bishop supports me."
She and her husband are planning to have a blessing from the Bishop of the Diocese of Maiduguri to renew their marriage next week. She wants CSI to send a person to witness that. They have big dreams to expand their shop to include selling palm oil, grains and lotions.